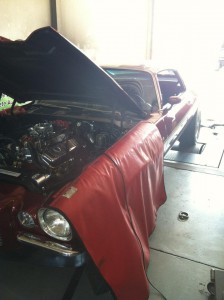 Who are We
At The Shop, we're passionate about cars and even more passionate about our customers and how we can help them. It's tough to find the right auto repair shop and we want to show you why you can trust us.
Performance
We specialize in performance applications – naturally aspirated and forced induction. The Shop has a Mustang 1750SE Dynamometer as well as a Dynojet 248X Inertia Dyno. We are HP Tuners and Diablosport dealers as well as an authorized Chip Master Revolution tuning facility.  Contact us and we'd be happy to serve your performance needs. See the Performance tab above for more information.
Tina Thompson - Lincoln
"I took my Nissan Pathfinder into The Shop, Inc. It had a horrible engine noise and the oil light was on while running. I was sure the engine would be damaged and would require thousands of dollars to repair. Chad called and said that it indeed had 0 oil pressure but that they had taken the extra step and checked some things that could cause that and to my surprise he said that the issue was caused by a faulty oil filter! My total bill with diagnosis and filter was $86. I was expecting to spend thousands and The Shop knew that, but still fixed my vehicle the right way and did not take advantage of me."
James and Doris Thompson - Lincoln
"We just wanted to send you a note of thanks for the great way we were taken care of when we came into your shop. You took care of us in a great way without a lot of hassle. I have told my friends about the great service we received. Thank You."
James Stuart - Lincoln
"My transmission was slipping in my 1998 Caravan and after shopping around I found that The Shop Inc was the best overall value."
Charlie Howard - Eagle
"I have been taking my vehicles to The Shop, Inc. since they opened in Eagle, NE in 2001. They expanded to Lincoln and I still make the drive to take my vehicles there as they are so very knowledgeable and honest. I never have to worry that they are replacing parts that don't need to be replaced".
James Stouder - Lincoln
"True story: I took my suburban to the Chevy dealership and was told that my upper and lower intake needed replaced, hence all the antifreeze leaking. They said they needed to do a thermostat fix and change oil. At the same time I was told the cost was over $1,000! I knew I was going to be having the work done at The Shop after talking to Chad Fegley because without looking at our truck he said it'd be about $800. My wife dropped the suburban off one morning and within an hour or two to my surprise Chad called to tell me I had a faulty bypass hose and a loose intake bolt! He also said my truck was ready for pick up and my bill was $140. A pressure test was completed and there were no more leaks! Yeahooo thank you Chad, thank you for helping my wife and I afford to rise our 5 kids and thank you for your honesty and integrity. I'm happy to say I will be returning the $200 worth of parts I never really needed! Thank you, thank you, thank you!"